At Seakargo Ltd we Offer Lowest price Shipping by Shared Container to New Zealand for only £650.00 Per car | Container shipping to New Zealand | Car Export to New Zealand via our shared container shipping service we offers a secure and safer way of shipping vehicles/cargo to New Zealand.·
UK's No 1 Shipping Company Destinations: Auckland, Christchurch, Dunedin, Hamilton, Nelson, Rotorua, Tauranga, Wellington.... We specialise in shipping cars from the United Kingdom to New Zealand, Shipping your Motorcycle, Car ,Van , Truck & Shipping personal items , Household goods.... to New Zealand.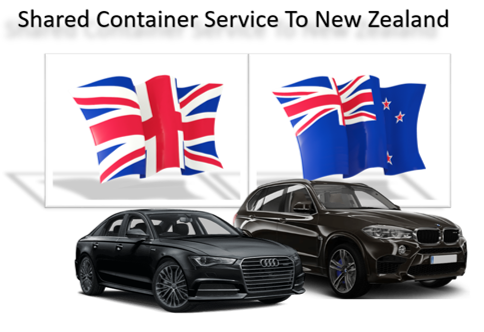 Car Shipping To New Zealand - UK to New Zealand car shipping
Weekly container and RoRo shipments direct to New Zealand.
Our shared container services couldn't be easier, Simply deliver the vehicles to our warehouse ,Sign a check in form and we will sort out the rest!
Car Shipping Costs UK to New Zealand (Auckland/Lyttelton)
...
| | | |
| --- | --- | --- |
| Saloon Car/Hatchback | Shared Container Prices | £650.00 |
| SUV/4x4 | Shared Container Prices | £795.00 |
| | | |
| Vans, Caravans, Bus, Truck and Trailer | (Please check with us ) | Call:01473 375030 |
Alternatively Get Quote For Shipping Different Types of Vehicles Or want to ship your personal items (Personal Effects)

To place a booking click here or contact us on 01473 375030. Alternatively email johnny@seakargo.com
---
( Vehicle Delivery Addresses )
Closer to London? Why not deliver your vehicle to our receiving depot in South Mimms (North London)
Closer to Felixstowe port, Please deliver your vehicle to our warehouse: 29 Britannia house, Base Business Park, Rendlesham IP12 2TZ, Great Britain
7 days a week (Out of hours) Drop Box services ( Drop Box Location Unit H8 Base Business Park Rendlesham, Suffolk, IP12 2TZ – For SAT NAV IP12 2TW)
---

Your vehicle must comply with some import regulations. The main regulation on importing vehicles into New Zealand is they must be Euro 4 to Euro 6. This is the European emissions standards. Since catalytic converters were made compulsory on new vehicles in the UK in 1992 there has been a series of Euro emissions standards starting of at Euro 1 leading to the current Euro 6. To find out your vehicles euro category please see the below table. Every car sold up to a year after the dates below should conform to the appropriate standards, but it is always good to check with your manufacturer directly if you are not sure.
| | | |
| --- | --- | --- |
| Emissions Standard | Applied to new passenger car approvals from: | Applied to most new registrations from: |
| Euro 1 | 1st July 1992 | 31st December 1992 |
| Euro 2 | 1st January 1996 | 1st January 1997 |
| Euro 3 | 1st January 2000 | 1st January 2001 |
| Euro 4 | 1st January 2005 | 1st January 2006 |
| Euro 5 | 1st September 2009 | 1st January 2011 |
| Euro 6 | 1st September 2014 | 1 September 2015 |
GST will need to be paid in New Zealand to get your vehicle through customs. GST is charged at 15% of the CIF value (cost of vehicle + insurance amount (if applicable) + freight cost). This is based on standard cars, generally no duty is payable only GST. Please find an example of how to calculate your import taxes and duties below: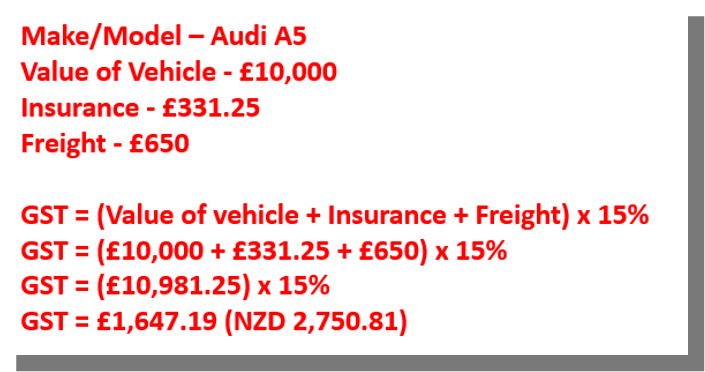 You will also have local charges to pay to our agent at destination which will be for the local port charges, unloading fee's customs clearance etc. Price are available upon request.

*Saturday opening 09:00 - 12.00 pm offer is for our UK warehouse in Suffolk only
Arrival of your car in New Zealand (Auckland / Lyttelton)
Our New Zealand shipping agent can arrange customs clearance and delivery of your vehicle to any location inNew Zealand.The full container is cleared at the port. You do not have to be there. Once the container has been cleared byNew Zealandcustoms it is taken to our secure terminal then Simply make an appointment with our agent and collect your car.
We use steel racking system onour shared container service
Where's my car?New vehicle tracking service: Track your car from the port to arrivalNew Zealand. Once your car is loaded we will give you the container number and you can follow your car as it makes its journey toNew Zealand.
---