At Seakargo we Offer Lowest prices Shipping by RoRo / Container to Malta (Marsaxlokk) Price from £445.00 Per car, Container shipping to Malta , 20ft-40ft Container Shipping to Freeport - Marsaxlokk | With Container shipping method we offers a secure and safer way of shipping vehicles/cargo | We specialise in shipping cars from the United Kingdom to Malta . Shipping your Car ,Van , Truck , Shipping personal items , Household goods.... to Malta Freeport - Marsaxlokk.
Car Shipping Malta - UK to Malta car shipping services
Seakargo We also offer weekly car shipping services on regular Roll on Roll off services .
We are members of the British International Freight Association (BIFA) and FIATA which enhance the professional levels of freight forwarders and logistics service providers in the United Kingdom, giving you the peace of mind that seakargo can professionally deliver your vehicle from the UK to Malta
Container services
With weekly sailing from Felixstowe to Marsaxlokk. Transit time 18 days.
We are loading containers at our UK depot. You can deliver cargo to our terminals or we can arrange collection from your door. After you have booked with us we will arrange a suitable appointment and you can drive your car to the loading point.
-------------------------------------
For Roll on Roll off services
Weekly service with a 14 day transit time from Southampton or 18 days from Bristol. Seakargo offer regular Roll on Roll off services from Southampton and Bristol to the port of Valleta. We collect cars throughout the UK and deliver them to the port with the relevant UK customs paperwork for a smooth transition from the UK. Our agents in Malta can attend to the necessary Maltese customs paperwork at the port where you can then collect your car.
We will print and email you a dock pass and a Standard Shipping note to give you access to the port or loading terminal. As a government registered UK Customs Broker we electronically file your customs entry directly onto the UK Customs website in advance of the export process.
All of our teams have experienced in car shipping and depth knowledge of exporting cars and vehicles to Malta to ensure that both UK and Valletta customs procedures are strictly adhered to, ensuring minimal delays
We are a UK customs registered broker with approved access to the Government gateway for completion of the necessary formalities to give you a smooth transition through UK and Maltese border controls.
For a bespoke and highly individual car shipping service to Malta and to find out more about our great shipping rates and regular weekly car shipping services please call us on 01473 375030.
You can also just ask us a question here.

Moving to Malta with Car and Personal Items in the same container!
Cost of Malta Shipping - We collect your consignment from your home, load your goods onto a shipping container and have it delivered directly to the front door of your desired Maltese destination - you won't have to lift a finger!
Our friendly moving teams know the process of UK to Malta shipping back to front, so whether you are moving from the UK to Valletta, Mdina, Birgu, Senglea, Cospicua, Silema, Rabat, Mosta or Marsaxlokk, your move co-ordinator will find the best overseas shipping option to accommodate your moving budget and consignment size.
If you only need to ship a small quantity of items or if you are sending excess baggage, you can take advantage of a shared shipping container whereby you will only pay for the space your goods occupy. For larger homes, we can provide an exclusive shipping container to Malta from the UK, you pay for the entire container and you can fill it however you wish. We can even ship your vehicle, motorbike, caravan or boat in the same container.

How much does it cost to ship a car to Malta?
Below is a table of Fixed car shipping costs and prices to Malta. Rates are port to port shipping only, Included in the price: Export Customs Clearance from the UK, Professional Vehicle Loading and Securing
Excluded from the price: All Destination Charges, Duties and Taxes at destination, car collection costs and UK car delivery
Car Shipping Costs UK to Malta
...
| | | |
| --- | --- | --- |
| Standard Saloon Car | RoRo / Container - Malta Freeport - Marsaxlokk | |
| SUV / 4x4 | RoRo / Container - Malta Freeport - Marsaxlokk | |
| x2 Saloon Cars | RoRo / Container - Malta Freeport - Marsaxlokk | Call:01473 375030, 0330 113 0022 |
| Standard Saloon Car | Ro Ro Valletta | £665.00 |
| SUV / 4x4 | Ro Ro Valletta | £745.00 |
| x2 Saloon Cars | Ro Ro - Valletta | £1,295.00 |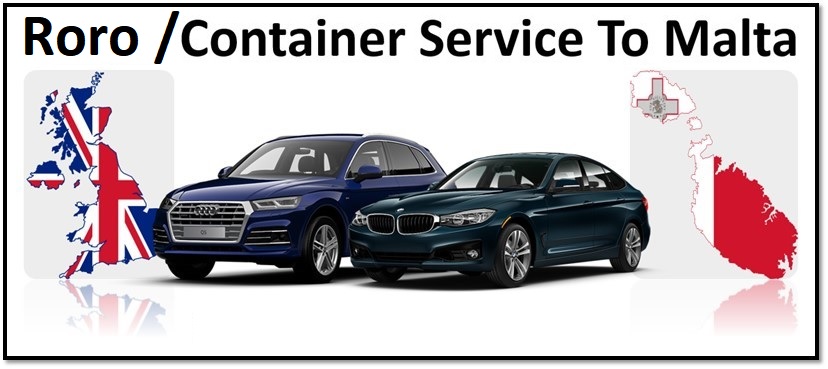 We offer a weekly consolidated car shipping service to Malta, loading at our warehouse in Ipswich, Felixstowe port.
Lowest Prices & Best Service guaranteed!
---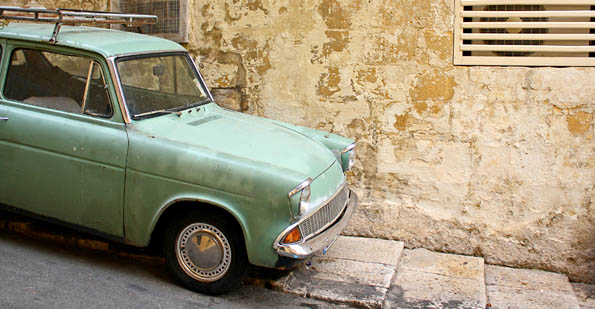 There are a lot of steps to climb if you want to import a car into Malta!
Essential Malta: Importing a Car
Get the facts about shipping your car to Malta and know before you go to avoid delays and problems.Car Shipping and Import Guide To Malta - Malta: Importing a Car?
Before you go
All vehicles being imported into Malta from other EU member states must have an odometer authenticity certificate verifying the vehicles mileage. Transport Malta have identified JEVIC UK Ltd as the approved body in the UK to complete inspection of the vehicle and issue the authenticity certificate that must be submitted to them when the vehicle is imported into Malta.
To apply for an Odometer Authenticity Certificate your vehicles details including current mileage should be provided to JEVIC, along with a copy of the vehicles registration document (V5) and current MOT, using their booking form. The application can be completed by email, fax or post and must be made in conjunction with a payment of £28.50+VAT for the certificate to be issued. Information, costs and contact details for application can be found in JEVIC guidance notes .
Documentation we need
To enable us to arrange shipment of your car to Malta we will require copies of the below documents. Please note that we only require copies of the below documents, originals should be kept with you as they will be needed at destination for completion of Maltese customs and registration formalities.
A copy of the vehicles Log Book / License document (V5).
• A copy of the photo page of your Passport
• A copy of a valid MOT certificate will only be needed if you would like us to arrange collection of your vehicle in the UK using an insured driver. If your vehicle does not have a valid MOT, or if you would simply prefer, we also offer collection using enclosed collection vehicle or car transporters.
Arriving in Malta
Shortly after departure of the vessel carrying your car to Malta we will provide you with a copy of the Bill of Lading covering shipment of your vehicle. The bill of lading is evidence of your vehicle having been exported from the UK and will be required when you car arrives at destination. In addition to copy shipping documentation we will also re-confirm the anticipated arrival date of the ship in Malta and will also provide full contact details for our local receiving agents at destination. We will also forward a copy of the customs form T2L to our agents as it will be required by Maltese customs when your car arrives. Our agents will be in touch with you locally in Malta when your car arrives to make arrangements for Maltese customs formalities to be completed.
Duty and Tax
When shipping a car to Malta from the UK in conjunction with changing your place of residence to Malta you are entitled to import one vehicle into Malta exempt from paying tax provided that the following criteria are met:
The vehicle must have been owned by you and registered in your name for at least 24 months before importing into Malta.
• You must have lived outside of Malta for a period of at 24 months before transferring your residency to Malta.
• The vehicle must be declared to Transport Malta within 30 days of it's arrival and within 12 months of you transferring your residence to Malta but no more than 2 months before you arrive.
Your application for exemption from registration tax should made be by completing Transport Malta Transfer of Residence - Application for Exemption from Motor Vehicle Registration Tax form VEH07 available
here
.
Import duty & taxes for Car
The import duty rate for importing Car into Malta is 10% , the import VAT is 18%, when classified under Cars & Motorcycles → Cars | used - petrol → Petrol Car | engine capacity 1501 - 3000cc with HS commodity code 8703.23.9000
If you need any further information please contact our specialist for the Malta Trade,
Mr Johnny Kerridge
Telephone: 01473 375030
Email: johnny@seakargo.com, info@seakargo.com
WE ALSO OFFER CONSOLIDATED CAR SHIPPING TO:
Australia
Fremantle, Melbourne, Port Kembla/Sydney and Brisbane.
New Zealand
Auckland
South Africa
Durban
Further export destinations are available on request, please contact us for further details.
OTHER SERVICES - RORO:
We also ship travel trailers, RVs, tractor units, cargo trailers, dually pickup trucks and oversized vehicles via our RORO services.
USEFUL INFORMATION
Vehicles should run, drive, brake and steer. Personal effects and loose cargo are not permitted within RORO shipments. Propane tanks are also not allowed. Vehicles should be clean to reduce risk of Customs / Quarantine charges.
RORO services are focused on modern, running vehicles and reliable classics. Certain ports will ship a non running vehicle with additional surcharges.
QUOTATION / BOOKING PROCEDURE
We are quoting and shipping vehicles Weekly on the RORO services, please call 01473 375030 or email for prompt rates and friendly advice.