YOUR GUIDE TO SHIPPING YOUR VEHICLE TO AUSTRALIA WITH SEAKARGO LIMITED

For shipping your vehicle to Australia, there are strict requirements on the importation of your motor vehicle into Australia. This guide can be used to help you further understand how this process works and what you can expect upon arrival in Australia.
If you do need any assistance or have any other questions regarding importing your vehicle to Australia, then please feel free to contact Us on our sales team for the necessary help 01473375030 .

Important Information:
When importing your vehicle in to Australia, there are strict regulations with which vehicles have to comply with. The origin and the age of the vehicle (based on original manufacture) as well as the importer's status are vital elements with the process of determining whether to vehicle can be imported in to Australia and can determine the type of documentation required.
Even though the Australian Government have very strict safety and emissions standards for non-compliant vehicles, if your vehicle falls under the below conditions then it won't require any conversion or modification work upon arrival in Australia:
If the vehicle has been owned and used in the origin country for more than 12 months by the importer of the vehicle it can be imported to Australia without requiring any work.

If the vehicle had been sold in Australia or was originally manufactured in Australia, which has the compliance plate fitted at the time of original manufacture.

The vehicles date of manufacture is prior to 01/01/1989.

The vehicle has been purchased new and has been manufactured to comply with Australian safety and emission standards.
VIA (Vehicle Import Approval):
The application for importing your vehicle in to Australia usually takes 4-6 weeks to be processed and eventually returned to yourself. Vehicles cannot be shipped from the UK until a copy of the import approval has been received. We will require a scanned copy of the VIA prior to the vehicle being shipped from the UK. The VIA can only be granted to private individuals that have a full residency VISA or to Australian/New Zealand nationals that are fully eligible to drive a vehicle on Australian roads.
If you have just moved to Australia from another country as the receiver, you must make sure that you apply for the VIA within 6 months of your arrival in Australia to be able to ascertain the VIA.
Application Process:
You VIA request must be made to the Australian Government's Department of Infrastructure and Regional Development. You can apply for the VIA online here. This is going to be the fastest way to submit the application. However, you will need to make a payment of 50 AUD in order to cover the initial application fees. You will have to scan copies of required documentation when submitting the online application.
While submitting the application, you must ensure that you choose the correct option from the below:
If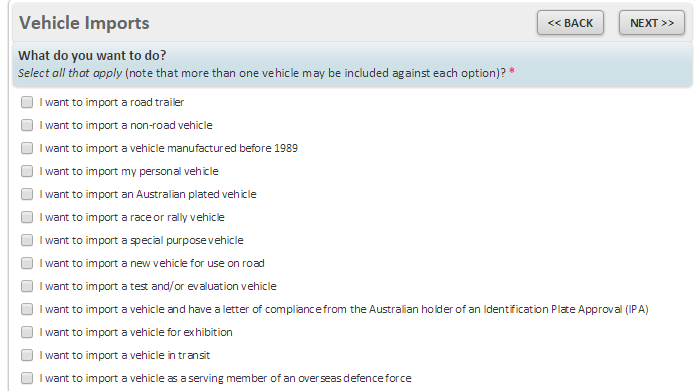 If you select the incorrect option, this will delay the application process and you may have to begin the process from the
beginning again rather than continue from the current point of application.
Once the Australian Government grant the application and make this valid then you will be able to ship your vehicle from the
origin country to Australia.
Temporary Import:
If the vehicle you're shipping is only going over temporarily, then you will not be required to apply of an IVA. However, you will
need to make sure that you get a Carnet de Passage document issued in the origin country. We will require a scanned copy of
the Carnet de Passage to accept the booking.
Quarantine Inspection:
Prior to the shipment of your vehicle, you must ensure that the vehicle is thoroughly cleaned. All vehicles are inspected upon arrival in the country by the Australian Department for Agriculture, Fisheries and Forestry (DAFF) for cleanliness of the unit. Common areas that can be overlooked are wheels & tyres, including the wheel arches and mud guards, spare tyres, boots and wheel housing for the spare tyre. You can ascertain further information on this here.
Required Documents:
To ship your vehicle to Australia, we require the below documentation:
Copy of the V5 (Scanned)

Passport Photo Copy

Scanned Copy of your VIA

Scanned Copy of your Carnet [if required]
Vehicle Duty & Tax:
The standard Vehicle Duty and Tax rate is 5% MFN Duty Rate and 10% Sales Tax on the CIF Value (Cost of the Vehicle + Insurance Premium [if applicable] + Freight Value combined). In order to prove the Vehicle cost, Australian customs will require a valuation document or bill of sale/purchase invoice for the vehicle at the time of clearing. All customs clearances are subject to a 50 AUD Import Processing Charge which will apply at the time of the entry.
If the vehicle is classed as Luxury, an additional Tax Code applies named "Luxury Car Tax", Luxury car tax (LCT) is a tax on cars with a GST-inclusive value above the LCT threshold. The threshold for 2015-16 is $63,184 (or $75,375 for fuel-efficient cars – those with a fuel consumption of 7 L / 100 km or less). LCT is imposed at the rate of 33% on the amount above the luxury car threshold. LCT is paid by businesses that sell or import luxury cars (dealers), and also by individuals who import luxury cars.
If you require any more information, please contact:
Importing a car to Australia from UK , what is the approximate cost of shipping a car to Australia from uk? how much will it cost to ship my car to Australia? At seakargo we offer £650 per car and £795 for 4x4.
Importing your vehicle into Australia
To give you some idea of the complexity of importing a vehicle into Australia, the Department of Infrastructure and Transport have produced a 35-page booklet called Importing Vehicles to Australia.

A shorter leaflet giving very basic information on importing your car is available through the Australian Customs and Border Protection Service.

Import Approval Permits
Both the Department of Infrastructure and Transportation and the Australian Customs Border Protection Service state categorically, "Do not import a vehicle into Australia before obtaining a vehicle import approval."
If the car or any other vehicle meets certain criteria, this permit is available from the Department of Infrastructure and Transport.
The Department of Customs then imposes a levy on the car. This has two components - Duty and Goods and Services Tax (GST). These are the figures:
| | | |
| --- | --- | --- |
| Vehicle Type | Duty | GST |
| Vehicles over 30 years old and motorcycles | 0% | 10% |
| New and used vehicles up to 30 years old | 10% | 10% |
| Four wheel drive off road / commercial vehicles | 5% | 10% |
The Customs Value
There are a few ways to calculate the value used to determine the duty on your car.
·Original Country Purchase Price - A depreciation factor is added to help determine the actual value of the vehicle.
·Australian Landed Value - This can sometimes be a good choice as it may be up to 50% of the market value. The value can vary enormously so you are advised to check this route carefully.
Luxury Car Tax
If the car you want to import has a GST inclusive value of $57,466 or more (as of 2011), it will be subject to Luxury Car Tax (LCT). This tax is in addition to the other charges listed above and is levied at 33% of the value above the $57,466 threshold.
How to Calculate the cost of duty and GST
The way to calculate duty and GST is dependent on the specific car and can be quite complex. Let's examine several different scenarios.
Classic Car: You have a vintage MG built in 1960 purchased in the UK. You originally paid the equivalent of $20,000 for the car. Since it is a classic car, it has not devalued. Customs value the car at the original price. Because the car is more than 30 years old, there is no duty to pay on it. However, there will be GST to pay. This will be 10% of the value of the car, or $2,000 in GST.
Summary for Classic Car Import Fees:
Value = $20,000
Duty = $0
GST=$2,000
Total Cost to Import = $2,000

Everyday Vehicle: You want to import a 2008 Ford Focus. Its original price in America was $15,000. It has depreciated to a value of $8,000 as estimated by the Customs Guidelines. It will incur a Duty of 10%. This is $800.
The customs value of the car is now $8,800 (car value + duty).
This figure is now used to calculate the GST, at 10% GST = $880.
Total cost to import = $800 (Duty) + $880 (GST) = $1680.
Summary for Everyday Vehicle Import Fees:
Value = $8,000
Duty = $800
GST=$880
Total Cost to Import = $1,680

Luxury vehicle: You wish to bring in a car valued at $70,000 by Australian Customs.
Duty = 10% of 70,000 = $7,000
GST is calculated on $77,000 (value + duty) = $7,700
Total value of car subject to LCT = $70,000 (value) + $7,000 (Duty) + $7,700 (GST) = $84,700
Luxury Car Tax payable on: $84,700 (Total value) - $57,466 (Allowance) = $27,234.
Luxury Car Tax is 33% of $27,234 = $8,987.
So, your total charges are: $7,000 (Duty) + $7,700 (GST) + $8,987 (LCT) = $23,687.
Summary for Luxury Vehicle Import Fees:
Value = $70,000
Duty = $7,000
GST=$7,7000
LCT = $8,987
Total Cost to Import = $23,687
Compliance with Road and Health Standards
Another factor to take into account when deciding whether to import your car is that it has to meet strict safety and pollution standards for it to be given an Import Approval Permit.
These include a range of requirements including but not limited to:
·Seat belts
·Child restraint anchor points
·Personal Compliance Import Plate
·Replacing the driver side door mirror to Australian standards
·Emissions standards

If your car is less than 30 years old and meets all the requirements of the Department of Infrastructure and Transport, it will be awarded a Compliance Certificate.
How to get a permit
To obtain clearance to bring your car to Australia - an Import Approval Permit - you will need to supply to the Department of Infrastructure and Transportation a collection of documents. These include:
·Weighbridge Certificate
·Engineer Certificate (for some vehicles)
·Imported Blue Slip ensuring the Road Transport Authority (RTA) that the vehicle is roadworthy
·RTA Visual Identification Unit inspection (for some vehicles)
The requirements for importing a car are laid out in a publication produced by the Department of Infrastructure and Transport called: Circular 0-1-2, 'A Guide to the Certification of new Vehicles- Type Approval'.
For more information on this, visit Vehicle Certification in Australia at the Department of Infrastructure and Transportation.
Special Cars - Muscle Cars
The Department of Infrastructure and Transport and the Australian Customs Border Protection Service have strict rules about the importing of customised vehicles and restored or converted cars built before 1989.
These departments are particularly cautious with respect to vehicles made more powerful than the original or do not meet emissions or safety standards. For more information on this complex issue, the Western Australian government has produced helpful guidelines for cars with major body modifications.
General Tips: for Importing a car to Australia
1) When shipping the car, put some parts in it, you do not pay duty on the parts you bring in, they are cheaper in the UK than over in Australia so well worth preparing for.
2) You don't need a KPH speedo if your current speedo shows MPH & KPH
3) Drivers side exterior mirror needs to be flat glass not convex like the UK spec. My advise, get the Australian spec part in the UK or get a piece of flat glass stuck on and then remove after your inspection.
4) Get your vehicle valued in Australia not in the UK… it much easier this way and they take into consideration the shipping costs for the vehicle & subtract it from the value they put on the car
5) Be prepared for the fact that you only have a small number of insurance companies who will cover a personal import. (Just Car or Shannons are okay, although Shannons undervalue the car because its an import)
6) Just let DOTARS do their thing, be patient, it took nearly 4 weeks for approval to come through!
7) Get your information together and send as much as possible to prove you own the car and have used it in the UK. Purchase invoice, service receipts, insurance documents (past and present if you have them) ferry tickets… anything that proves you have been using the car. You need to prove 12 months of continuous use in the UK
8) DO YOUR HOMEWORK… Make sure the car can operate in Australian conditions, everything will work and that you have priced up how much it would to buy the same car out here.. the Lotus for example was significantly more expensive at $99,990 plus on roads and dealer delivery!
9) Get the car cleaned in the UK, polished and make sure all the wheel arches are spotless, may seem a long task but it will save you the hassle of steam cleaning when it arrives in Australia, because my car was spotless it AQUIS passed it without any trouble.
8 steps to import a vehicle into Australia

Or Contact our Australia Auto Shipping Specialist. Jason H, Tel: 01473 375030 / Email: jason@seakargo.com